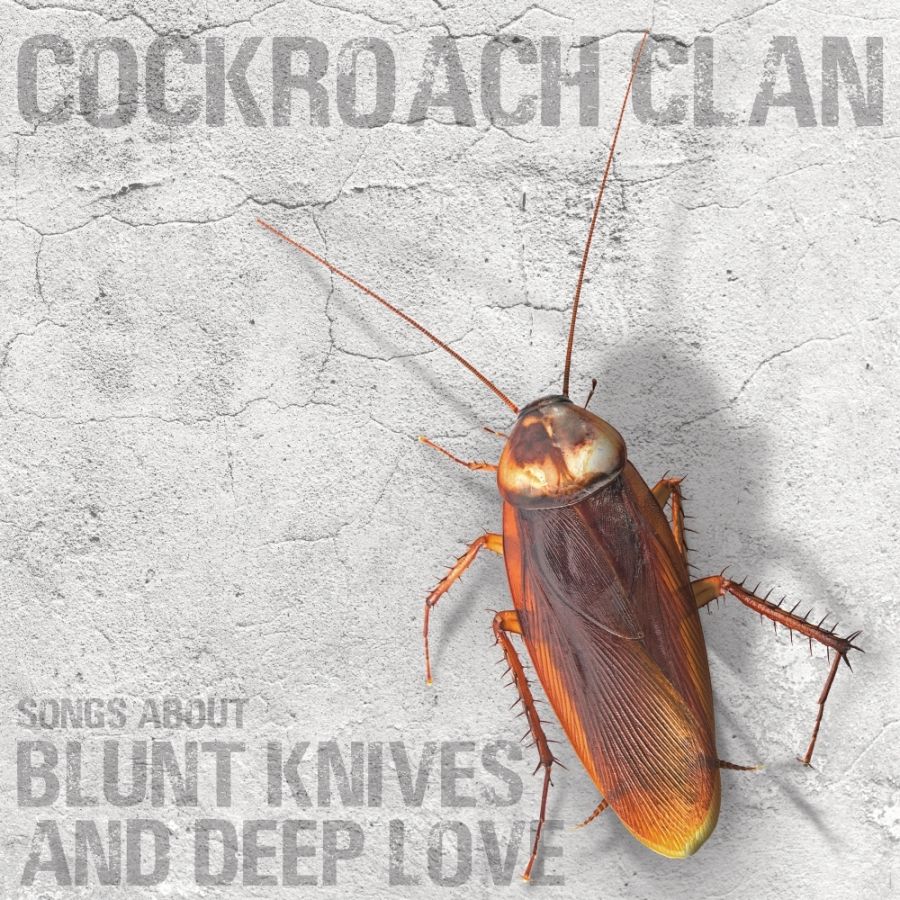 Songs About Blunt Knives And Deep Love
Label:
Info:
The legendary Norwegian punk act Cockroach Clan strike back after 22 years! The album called "Songs about Blunt Knives and Deep Love" started out as a bizarre idea from producer extraordinary Hugo Alvarstein (The Good the Bad and the Zugly, Raga Rockers):

"Pick some gems from your 1990s recordings and rehearse them properly. Then visit my studio and I'll make that scrap iron shine" he demanded. So the band did, threw in some new songs as well, and unpredictably ended up with an album now being released through record label Fysisk Format.

"The Fysisk Format crew are just a bit too young to catch Cockroach Clan on their first wave, but when we first heard the new album from the old legends, we were hooked!" tells Fysisk Format's Kristian Kallevik. "We fell in love with Cockroach Clan's great songwriting, down-to-earth attitude and their weird ability to be both angry and cheerful at the same time. We're honoured to bring Cockroach Clan to a new generation and to old fans as well."

Cockroach Clan have stayed more or less active the past few years, a few yearly gigs at the hand of nostalgia, enduring friendship and stubbornness has been the drill. Much like going fishing – for full houses.

The band started out as far back as 1994, building a loyal fan base and a reputation of being a superb live band along the way. Jovial aggression just can't fail when accompanied by good tunes! Cockroach Clan's previous albums "Roach" (-94), "Going Underground" -EP (-96) and "Just Say Blow!" (-97) have become minor classics in the Norwegian punk scene, although the band never gained any significant success beyond the punk congregation.

You might have seen the band on stage with acts like The Toy Dolls, Discharge, UK Subs, The Exploited, Cock Sparrer, Anti-Nowhere League, Vice Squad and GBH through the years. If not, it's about time – there are more gigs, joy and outrage to come!

So far so good, but... how about some trivia?
-Guitarist Akke was initially chosen to join Danny McCormack's The Yo-Yo's back in 1998 when The Wildhearts split up. Akke never got to become a full-time member of the band, due to problems in Danny's personal life at the time of his recruitment.
-In the wild nineties, Cockroach Clan was signed to renowned Swedish punk label Birdnest, alongside "trallpunk" bands like Charta 77 and De Lyckliga Kompisarna
-Bassplayer Morten and guitarist Simen made out the primitive garage punk duo Mormones. Morten is also the songwriter and guitarist in Fysisk Format/Rural Rebel Rock act Kosmik Boogie Tribe.
Photo by: Dan A. Nachtnebel
Credits:
Billy Cockroach: lead vocals
Akke Knoff Glomstad: guitars and background vocals
Cato Holmen: drums and background vocals
Simen Jeistad: guitars and background vocals
Morten Mormone: bass guitar
Additional cockroaches:
Hugo Alvarstein: keyboards
Jan Erik Kraabøl: guest guitar on «Fantasyland» and «Necktie Party»

Recorded, mixed and mastered at Instituttet for Tung og Tøff Rockelyd, Oslo, Norway
Produced by Hugo Alvarstein
Mixed and mastered by Hugo Alvarstein
Cover art by Bly and Fysisk Format
Labelcopy
Going to Georgia
Vocal: Eirik Norheim
Guitar: Atle Egil Knoff Glomstad
Guitar: Simen Jeistad
Bass: Morten Lunde
Drums: Cato Holmen
Keys: Hugo Alvarstein
You Have a Bun
Vocal: Eirik Norheim
Guitar: Atle Egil Knoff Glomstad
Guitar: Simen Jeistad
Bass: Morten Lunde
Drums: Cato Holmen
Keys: Hugo Alvarstein
Fantasyland
Vocal: Eirik Norheim
Backup vocal: Atle Egil Knoff Glomstad
Guitar: Atle Egil Knoff Glomstad
Guitar: Simen Jeistad
Guitar: Jan Erik Kraabøl (guest)
Bass: Morten Lunde
Drums: Cato Holmen
Keys: Hugo Alvarstein
Three Wishes
Vocal: Eirik Norheim
Backup vocal: Atle Egil Knoff Glomstad / Cato Holmen
Guitar: Atle Egil Knoff Glomstad
Guitar: Simen Jeistad
Bass: Morten Lunde
Drums: Cato Holmen
Keys: Hugo Alvarstein
On an Island
Vocal: Eirik Norheim
Backup vocal: Atle Egil Knoff Glomstad / Cato Holmen / Simen Jeistad
Guitar: Atle Egil Knoff Glomstad
Guitar: Simen Jeistad
Bass: Morten Lunde
Drums: Cato Holmen
Keys: Hugo Alvarstein

Crash Ka-Boom
Vocal: Eirik Norheim / Atle Egil Knoff Glomstad (bridge)
Backup vocal: Atle Egil Knoff Glomstad / Cato Holmen / Simen Jeistad
Guitar: Atle Egil Knoff Glomstad
Guitar: Simen Jeistad
Bass: Morten Lunde
Drums: Cato Holmen
Keys: Hugo Alvarstein

Necktie Party
Vocal: Eirik Norheim / Atle Egil Knoff Glomstad
Backup vocal: Atle Egil Knoff Glomstad / Cato Holmen / Simen Jeistad
Guitar: Atle Egil Knoff Glomstad
Guitar: Simen Jeistad
Guitar: Jan Erik Kraabøl (guest)
Bass: Morten Lunde
Drums: Cato Holmen
Keys: Hugo Alvarstein
Facts on the Wall
Vocal: Eirik Norheim
Backup vocal: Atle Egil Knoff Glomstad / Cato Holmen / Simen Jeistad
Guitar: Atle Egil Knoff Glomstad
Guitar: Simen Jeistad
Bass: Morten Lunde
Drums: Cato Holmen
Keys: Hugo Alvarstein
Gene's got a Bun Too
Vocal: Eirik Norheim / Atle Egil Knoff Glomstad (Trymskvida-strofe)
Backup vocal: Atle Egil Knoff Glomstad / Cato Holmen / Simen Jeistad
Guitar: Atle Egil Knoff Glomstad
Guitar: Simen Jeistad
Bass: Morten Lunde
Drums: Cato Holmen
Keys: Hugo Alvarstein

Did It Again
Vocal: Eirik Norheim
Backup vocal: Atle Egil Knoff Glomstad / Cato Holmen / Simen Jeistad
Guitar: Atle Egil Knoff Glomstad
Guitar: Simen Jeistad
Bass: Morten Lunde
Drums: Cato Holmen
Keys: Hugo Alvarstein
Believer
Vocal: Eirik Norheim
Guitar: Atle Egil Knoff Glomstad
Guitar: Simen Jeistad
Bass: Morten Lunde
Drums: Cato Holmen
Keys: Hugo Alvarstein
Cockroach Fandango
Vocal: Eirik Norheim
Backup vocal: Atle Egil Knoff Glomstad
Guitar: Atle Egil Knoff Glomstad
Guitar: Simen Jeistad
Bass: Morten Lunde
Drums: Cato Holmen
Keys: Hugo Alvarstein
Details:
FILE UNDER: Punk, UK punk, street punk, oi
FFO: Cock Sparrer, Wildhearts, UK Subs, Street Dogs, The Exploited
Tracklist:
1. Going to Georgia
2. You have a Bun
3. Fantasyland
4. Three wishes
5. On an island
6. Crash ka-boom
7. Necktie party
8. Facts on the wall
9. Gene's got a bun too
10. Dit it again
11. Believer
12. Cockroach Fandango